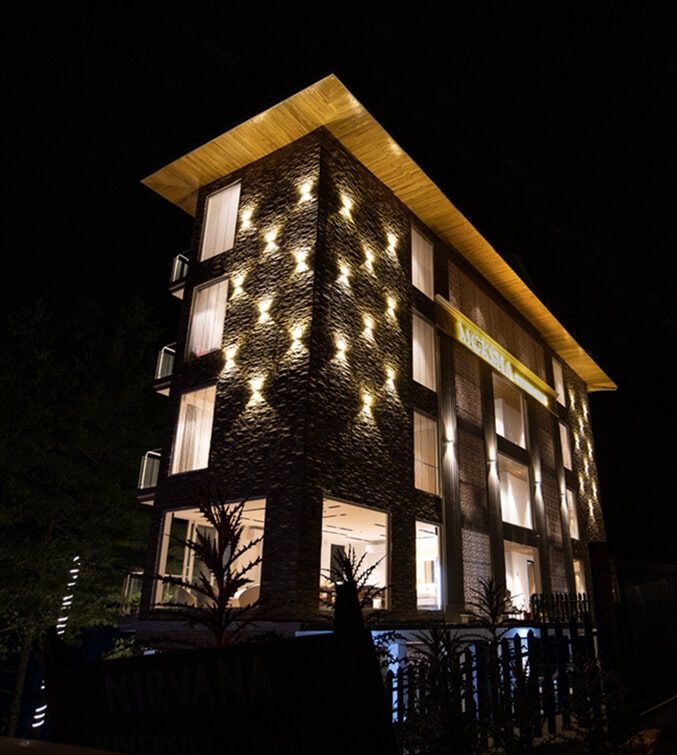 Our property is located at the best location of Parvati Valley, located adjoining the Parvati River. Our Boutique hotel offers a splendid view of the untouched & dense forests, Snow - Clad Majestic mountains forming the Parvati Valley.  Sitting at our exclusive riverside section, one will discover the ethereal music of the river.
Its perennial flow will bring our patrons closer to Mother Nature's purity. We serve Breakfast, Lunch, Snacks and Dinner in this pristine section. Ours is the only Luxury property which is made literally beside the Parvati River.
We offer a quaint residency of just (thirteen) rooms with individual Mini- Bars and temperature control systems. Smart - Televisions with Premium OTT subscriptions are also available across our Luxurious Rooms.
We strongly believe in the motto,' Atithi Devo Bhava'. Moksha Riverside's prime objective is to serve its Patrons with Solidarity and Exceptional levels of commitment wherein even the smallest needs & wants will be taken care of by our specially trained staff members.
Of course, one of our highlights are our Riverside lounge which will not only exhilarate our patrons but also bring them up to the calm and serene level of Self-Healing. Yes! Parvati River's melodious flow is said to heal its listeners in a magical way.
Nestled beside the river is a small island formation where our Patrons will be indulged in Day Picnics. Surrounding our property are numerous trails where our Patrons could seek a fun & adventurous trekking experience with all the 'Mandatory' safety gears.
DELUXE ROOM WITH RIVER FACING BALCONY
Fully Hot & Cold AC
Balcony
Wooden Flooring
RFID Touch less Locks
Mini Bar
Electric Cattle
43 inches LED smart TV
Balcony Chairs and table
10 Inches Pocket Spring Mattress


LUXURY ROOM WITH THREE SIDE VIEW FROM ROOM
This spacious camp has free wifi, Riverview, mountain view and forest view.
Fully Hot & Cold AC
Balcony
Wooden Flooring
RFID Touch less Locks
Mini Bar
Electric Cattle
43 inches LED smart TV
Balcony Chairs and table
10 Inches Pocket Spring Mattress


Your Luxurious Holiday in the Mountains